An approach to user experience engineering that boosts engineering productivity and next generation product design.
Not All Design Methods are Created Equal
In an article published for UX Matters, Collaborative Engineering with Lean UX, I discuss a design sprint activity at Rockwell Automation for next generation features for a legacy software application. Engineers, product leaders and designers worked in tandem to co-create features in their respective disciplines before engineering the full feature set of the product. The article describes one design method integrated into engineering cycles at leading engineering firms. While some enterprises are further along in their agile transformation and embracing new design methods, other teams may be using other UX or frontend methods as their digital transformation progresses. This post aims to demonstrate the value for teams to adapt UX and frontend methods as a vehicle for engineering productivity.
Growth in technical upgrades are fueling more investments in new strategies and technologies to help teams validate and also expedite product updates including integrating design and user testing in the release cycle. Whether it's discovering new features to speed up user workflows, or uncovering ways to improve legacy software performance — companies are tapping into success metrics for a product release through user testing methods and helping product teams standup the next release with confidence.
Challenges Facing Product Engineers
Disparate Technologies
Companies are using a myriad of technologies to achieve their goals of testing customer-focused products during engineering. Tools and frameworks to decentralize and diversify tools such as Splunk, Lighthouse or other micro frontend tools offer the promise of user insights, but may also come with business complexity and unexpected engineering time.
Relying on disparate technologies alone without testing against user interaction can be challenging as these tools may follow different release cycles and lack business support in the value of their deliverables. Additionally, the skills to integrate these technologies are in short supply and teams often stitch together solutions without an effective engineering process. These responsibilities can fall on engineers in siloed teams, which may not be tied to the demands of the release.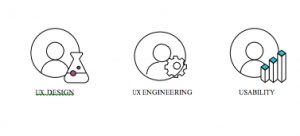 Siloed teams
It's very difficult for the traditionally siloed functional roles of data scientist, engineer, and business support to achieve any synergy with user insights or apply user data to solve business problems unless all functions are confident in the data. By viewing user feedback through separate lenses, trust in the analytics can be misplaced, and at worst slow down the speed of innovation and synergies.
The Value of Collaboration in Product Engineering
It's no secret that better collaboration often leads to improved operational efficiency and product engineering is no stranger to slowdowns during release planning. With no shortage of design ideas to sift through and the pressures of the business to build accurate engineering models quickly, it's important for teams to validate and test designs with end users during production to help realign product engineering trade-offs. Because engineering and data science tasks are often done independently by engineers who don't always have access to designers nor a process for collaboration during engineering it may seem futile to collaborate or looked down upon as necessary. In this case, waterfall teams may require management to look for opportunities to increase efficiencies. In these cases, it may be easier to collaborate on product ideas upfront or assign a designer to pair with engineers as needed.
If done right, collaborative design and engineering can positively impact team efficiency, innovation and release confidence — resulting in delivering the right product features to market. As organizations continue to try to become more responsive to customers, creating easier access to draft designs and visibility into user insights can be a resource for teams to solve design problems together, build and train models, and share insights with end users for pre-release feedback to catch quality issues early in production.
Case in Point:
Product Innovation with UX Design and Research
Company: Rockwell Automation is the leading engineering and software provider for industrial automation control technology. The software and engineering business brings integrated architecture online for the connected enterprise.
Use Case: UX Design for simulation software, including new features for standalone application or integrated components.  Customers interested in virtual design technologies requested additional tools for testing simulations of their engineering calculations. Designs were created and tested with end users to capture engineering features for the product team. Research identified improvements and performance indicators for the design. Based on these performance indicators, benchmarks were created for UI design of the application.
Solution: Without a client interface, the UX Design aimed to order the UI features to meet the user workflow of the application. Designs were tested with end users in Research studies, utilizing high fidelity prototypes. Quick design updates were made and given to engineer teams to iterate on feature concepts and data schemes.
Business Benefits: They were able to concept and visualize a minimal viable concept prior to full release planning.

Decreased cost of engineering and data modeling time
Small team able to stand up new technology features
Refined wireframes allows team to visualize and model data
Summary
Collaborative engineering serves as a vehicle that makes it possible for developers, data engineers, and data scientists to analyze user experience outcomes, explore data with users pre-release, train accurate machine learning models, and share insights with stakeholders.
Contact us for a personalized demonstration how we can help you.